I love all the different possibilities when you combine fruit and meat for the main course for dinner: Mango Chicken, Apple Pork, Ham with Pineapple, etc! So far I am yet to really find one my family is 100% on board with (I would settle for 70% though since I know pleasing them all in one meal only happens on Saturday morning breakfasts and Thanksgiving). So, came across a new one that I thought I would try. Seems to have good reviews and I am thinking the sauce is better than mushy cooked fruit, since my 6yr old's complaint is usually about the texture.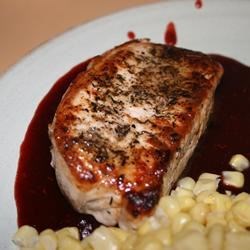 Pork Chops with Raspberry Sauce
INGREDIENTS (Serves 4 - Or in our cast 2 adults and 3 small kids)
* 1/2 teaspoon dried thyme, crushed
* 1/2 teaspoon dried sage, crushed
* 1/4 teaspoon salt
* 1/4 teaspoon pepper
* 4 (4 ounce) boneless pork loin chops
* 1 tablespoon butter
* 1 tablespoon olive oil
* 1/4 cup seedless raspberry jam
* 2 tablespoons orange juice
* 2 tablespoons white wine vinegar
* 4 sprigs fresh thyme (optional)
DIRECTIONS
1. Preheat oven to 200 degrees F (95 degrees C). In a small bowl, combine crushed thyme, sage, salt, and pepper. Rub evenly over pork chops.
2. Melt butter and olive oil in a nonstick skillet. Cook pork chops for 4 to 5 minutes on each side, turning once. Remove from skillet and keep warm in preheated oven.
3. In the skillet, combine raspberry jam, orange juice, and vinegar. Bring to a boil, and cook for 2 to 3 minutes, or until sauce is reduced to desired consistency (sauce will thicken as it cools). Spoon sauce in a pool onto a serving plate, and top with pork chops. Garnish with sprigs of thyme.